STEPHEN PETRONIO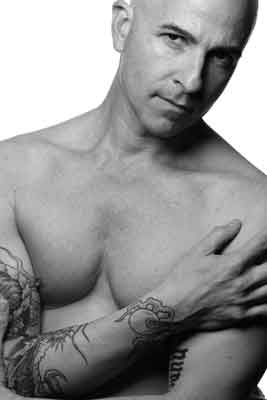 (Artistic Director/Choreographer)
Pendant 30 ans, Stephen Petronio a poli un language unique sur le movement qui s'adresse aux possibilités complexes et intuitives du corps informé par ses contextes culturels changeant. Il a collaboré avec une grande variété d'artistes dans de nombreuses disciplines au long de sa carrière et considère l'intégration de formes multiples comme fondamentale dans sa vision et dans son procéssus créatif. Il continue de créer un havre pour les danseurs qui not un vic intérêt pour l'histoire du mouvement contemporain et un appetit pour l'inconnu.
Petronio est né à Newark, NJ, et a reçu un BA du Hampshire College à Amherst, MA, où il commença sa formation précoce en improvisation et en dance technique. Il a aussi grandement été influencé par ses travaux avec Steve Paxton que par la danse de Rudolf Nureyev et fut le premier danseur homme de la Trisha Brown Company (1979 – 1986). Il s'est fabriqué une carrière unique, reçevant de nombreuses recompenses, notament une collaboration avec John Simon Guggenheim, des prix de la Foundation for Contemporary Performance Arts, New York Foundation for the Arts, un American Choreographer Award, un prix "Bessie" de la New York Dance and Performance, et plus récemment le prix 2015 Doris Duke Performing Artist.
Stephen Petronio a créé plus de 35 travaux pour sa compagnie et a reçu des commandes provenant de certaines des plus prestigieuses companies de modernes et  de ballets parmis lesquels figurent  le Ballett Frankfurt de William Forsythe (1987), Deutsche Oper Berlin (1992), Lyon Opera Ballet (1994), Maggio Danza Florence (1996), Sydney Dance Company (2003, evenement complet), Norrdans (2006), the Washington Ballet (2007), The Scottish Ballet (2007) et deux travaux pour la National Dance Company Wales (2010 and 2013).
Le répertoire de travail sa compagnie a été performé par The Scottish Ballet, Norrdans in Sweden, Dance Works Rotterdam, National Dance Company Wales, X Factor Dance Company à Edinburgh, Ballet National de Marseille, Ballet de Lorraine, et London Contemporary Dance Theater, tout autant que dans des centres universitaires à travers les Etats-Unis. En 2009 Petronio a achevé en 2009 une oeuvre complète pour 30 danseurs Tragic Love, en collaration avec Son Lux pour le Ballet de Lorraine. Son Lux avec lequel il fit de nombreux autres travaux: By Singing Light, pour National Dance Company Wales (2010), The Social Band, commande pour OtherShore Dance Company à New York (2011), de nombreuses éditions unique de Like Lazarus Did (2013) pour Stephen Petronio Company. Prometheus Bound (2011), une comédie musicale pour l'American Repertory Theater, en collaboration avec Diane Paulus (HAIR), l'écrivain et parolier Steven Sater (Spring Awakening), le compositeur Serj Tankian (Grammy award, chanteur de System of a Down). En 2013, Stephen Petronio créa Water Stories pour la National Dance Company Wales en collaboration avec le compositeur Atticus Ross (Nine Inch Nails) et le photographe Matthew Brandt, concéption visuelle de Ken Tabachnick.
Stephen Petronio, dont la formation commença avec les figures de proue de l'ère Judson, performa Man Walking Down the Side of a Building en 2010 au Withney Museum pour Trisha Brown Company, a performé son intérpretation de Intravenous Lecture (1970) de Steve Paxton à New York, Portland et la conférence TEDMED-2012 au Kennedy Center Opera à Washington, DC. Stephen Petronio a reçu l'honneur d'être nommé premier artiste en résidance au Joyce Theater de 2012 à 2014. Il est actuellement impliqué qu côtés de l'artiste visuel Janine Antoni dans nombre de projets trans-disciplines, dont l'un d'entre eux, l'installation vidéo Honey Baby (2013), créée en collaboration avec le compositeur Tom Laurie et la réalisatrice Kirsten Johnson, a été diffusé au printemps 2015 à Luhring Augustine. Petronio et Antoni ont dévoilés leurs installations à testsite Austin ( 3 mai – 28 juin, 2015) à SITE Santa Fe (13 juillet, ouverture 2015), et sont en pleine collaboration sur un projet en cours, Ally, en collaboration avec Anna Halprin et Adrian Heathfield, qui effectuera sa premiere au The Fabric Workshop and Museum in Philadelphia du 22 avril au 31 juillet 2016. Stephen Petronio a récemment publié un mémoire, Confessions of a Motion Addict, disponible sur Amazon.com.