IF THE DANCER DANCES: A Documentary Film
July 24, 2018 @ 8:00 pm
$15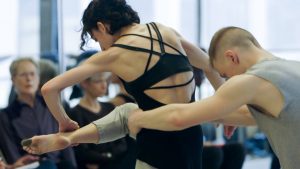 "The beauty and tender and amazing thing about dance is that it gets passed from one body and one soul to another."
— Stephen Petronio
Experience the documentary that brings dance history to life as it follows the Stephen Petronio Company during the reconstruction process of RainForest (1968), an iconic and mysterious work by the legendary choreographer Merce Cunningham. Lise Friedman and Maia Wechsler capture the process of how to transfer works through generations of dancers. With the guidance of former Cunningham dancers, SPC brings the piece back to life, revealing what happens behind closed studio doors. The film confronts an urgent and essential question of the nature of this art form: how do we preserve these historical works as time goes on? Screening at the 2018 Dance on Camera Festival by the Film Society of Lincoln Center.
After the film, the floor will open up for a Q&A session with Lise Friedman, director Maia Wechsler and members of the Stephen Petronio Company. Reception to follow.
Click HERE to purchase tickets.